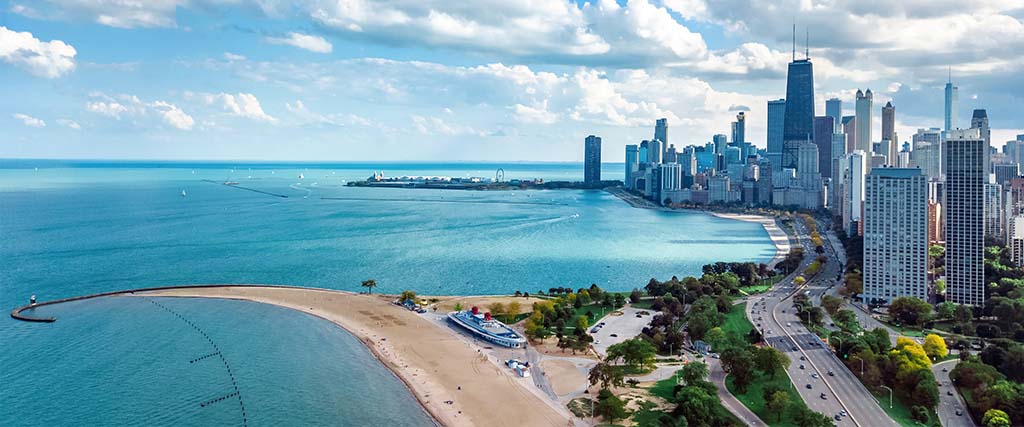 Chicago
Chicago is vibrant, cultured and so diverse. Every corner of the city represent a culture from different backgrounds and can teach you something. You can never be bored in Chicago, from music, food to art festivals, there is always something to do. Here at One Key Visa, we love that we can call Chicago HOME!
Known as the windy city, Chicago is a center for commerce, finance, culture, industry, technology, education, transportation, and telecommunications at the international level. Chicago is the third most populated city in the United States. Chicago's 58 million domestic and international visitors in 2018 made it the second most visited city in the United States.
The city of Gardens
The City of Chicago does not only have magnificent architecture, but it also has vast open and green spaces. Chicago has more than 580 parks and approximately 8,300 acres of green places. With ice rinks, beaches, and bike paths, folks can enjoy several outdoor activities. The famous parks of Chicago are:
Lincoln Park
Jackson Park
Millennium Park
Famous Personalities of Chicago
Chicago claims many amazing musicians, actors, entrepreneurs, Politicians, and Abraham Lincoln. Other includes:
Barack Obama
Barack Obama served as the 44th president of the United States. Chicago is home to President Barack Obama.
Michael Jordan
Michael Jordan is a famous former professional basketball player. He played 15 seasons of National Basketball Association and won six championships.
Walt Disney
Walt Disney was a motion picture and television producer. He is also famous for a pioneer of cartoon films. Walt Disney is the creator of the amusement parks for kids; Disneyland and Disney World.
Oprah Winfrey
Oprah Winfrey is an American talk show host, media executive, actress, philanthropist, and television producer. She was from Mississippi but she chose Chicago for her home and the location of her award-winning talk show Harpo Studios.
Derrick Rose
He is the starter of Bulls basketball team for Chicago. Rose awarded the Most Valuable Player at a very young age of 22 years old.
The Most Diverse City
Chicago ranked as the 13th most diverse city in the United States. This City also ranked as 39th in the "Cultural Diversity" categorization. In Chicago, it is very common to live with a wide range of racial and ethnic groups and yet remain isolated.
Top restaurants of Chicago
We also note a number of the best restaurants, chefs, and concepts in the city. Here are some top restaurants:
Time Out Market Chicago
Time Out Market Chicago has the best chefs in the world. The restaurant spread across three constructed floors on a 50,000-square-foot space with 18 kitchens, three bars, and a beautiful rooftop terrace.
Some of the Top Universities in Chicago
Here are some top universities of Chicago listed below:
The University of Chicago
This is a private research university that was founded in 1890. The University of Chicago is the top-rated university and hold the top positions at national and international ranking levels. the 2020 QS World University Rankings placed the university in 10th place worldwide. Chicago has also been consistently recognized to be one of the top 15 university brands in the world, retaining the number three spot in the 2019 U.S. News Best Colleges Rankings. In a corporate study carried out by The New York Times, the university's graduates were shown to be among the most valued in the world.
Illinois Institute of Technology
Illinois Institute of Technology is a private and technology-focused research university. It provides undergraduates and graduates degrees in science, engineering, architecture, business, applied technology human sciences, and law.